DX Cluster
Linux Client Software
Linux offers a DX cluster client software application named "xdx". I like it because it is simple to set up and use.
XDX
DX Cluster Software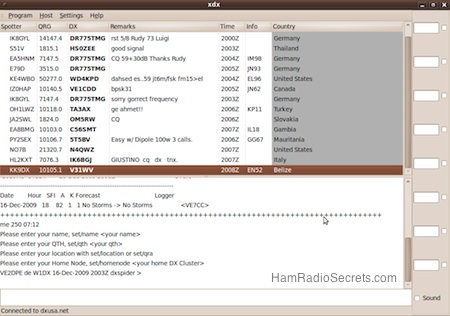 Xdx is a TCP/IP client software application on Linux. The screen snapshot above shows Xdx connected to the dxusa.net cluster host.
There are many other cluster hosts on the Web but many are often down for some reason or other. You will have to try a number of them before you finally settle on a few favorites.
The hosts that are frequented by avid contesters are usually up during DX contests!
After signing in with your call sign, Xdx will display entries contributed by all other hams that are signed in.
If you have hamlib installed and your transceiver connected to your computer via the serial port (using rigctl), you can set the frequency of your XCVR simply by double clicking a DX-spot.
Then listen. If you can hear the DX station, try calling her/him on the frequency s/he is listening to.
More Linux ham radio software here.

---
73 de VE2DPE
Claude Jollet
7, Rue de la Rive, Notre-Dame-des-Prairies, Québec, Canada J6E 1M9
QTH Locator: FN36gb
---
---