The Ham Radio Cartoon
What Motivates It?
What's the purpose of a ham radio cartoon if not to (at least) make you smile and/or to harmlessly make fun of someone (who is hopefully) harmless!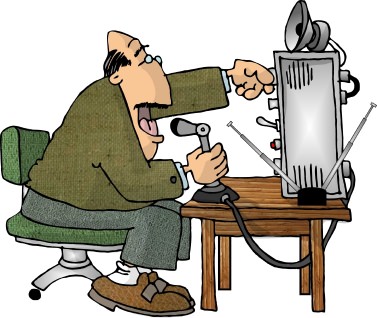 Our hobby is so off the beaten path that we are perceived as somewhat "odd" with our apparently "peculiar" behavior.
Talented people like to express their "incomprehension" with cartoons. Why not?
Ham Radio Cartoon
Bewildering Fact
Let's face it. We ham radio operators generally put ourselves in situations, the purpose of which is often totally bewildering to "uninitiated" bystanders.
For instance...
Climbing up towers at all ages, in all kinds of weather, to make that all-important installation or emergency repair.


Walking around with a dangerous-looking hunting sling-shot (...bow or crossbow) and occasionally taking a pot shot at something invisible just over that big tree in the back yard ... then pulling back on an invisible fishing line muttering unprintable words! :-)


Talking to an invisible human being in a middle of the night about things that have apparently no useful purpose.


For old timers like me ... pounding away something totally incomprehensible in CW ... with a big grin on my face! :-)


Getting up in the middle of the night to try and catch a 20 meter opening to Australia ... leaving my wife behind to wonder what the ...
All things considered, it's no wonder we are the subject of generally well deserved and (fortunately) often funny cartoons.
Each amateur radio cartoon on this next page comes with a caption. They are bound to make you smile!
---
73 de VE2DPE
Claude Jollet
7, Rue de la Rive, Notre-Dame-des-Prairies, Québec, Canada J6E 1M9
QTH Locator: FN36gb
---
---