Ham Radio Deluxe
A Hybrid Experience
Consider this article on Ham Radio Deluxe (HRD) as a "mini" review of the lesser known aspects behind the software.
HRD is popular because it is an appealing and free graphical user interface (GUI) to your radio transceiver or receiver.
It has its advantages ... and some inherent disadvantages, as you will see in a moment.
HRD elegantly transfers on a computer screen many of the control functions provided by knobs and push buttons on the receiver or transceiver main panel.
HRD is a MS Windows-based (MSW) application, running on a personal computer (PC).
The PC running HRD is connected to your radio using a cable from your PC's serial port (or USB <-> serial converter). Therefore, all the signal processing remains done by your radio.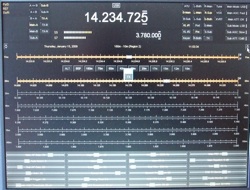 Ref: www.ham-radio-deluxe.com
HRD provides a visual user interface to many of the existing control functions of a ham rig ... from the outside.
As such, HRD will give you a "taste" of what Software Defined Radio (SDR) looks like, from a user interface point of view.
In addition to its slick graphical user interface (GUI), HRD also packs modules for logging, mapping, satellite tracking and the DM780 module for the most popular digital modes.
All at no cost! :-)
However, please note that . . .
Ham Radio Deluxe (HRD)
should not be confused with
Software Defined Radio (SDR).
HRD is simply a sophisticated add-on
to an existing "classic" radio.
On the other hand, a
Software Defined Radio
(SDR) takes charge of - and considerably enhances - all the signal processing and control functions of a radio, this side of the antenna interface circuitry.
Blessed And Cursed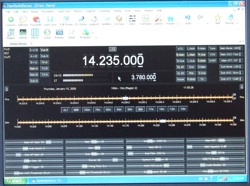 The Windows operating system is both a blessing and a curse as a development platform for Ham Radio Deluxe.
A blessing because MSW runs on the vast majority of PCs owned by amateur radio operators, thereby favoring widespread accessibility and use.
A curse because the domestic flavors of MSW were never designed to run such a demanding application as HRD.
HRD requires "real-time" priority access to the PC's CPU for some of its functions.
But, Windows O/S insists on not sharing its priority access to, not just the CPU, but all the PC resources!
The result? HRD sometimes suffers from slow or jerky performance ... that's when Windows does not freeze altogether, requiring a reboot in the middle of a QSO!
But, hey! HRD costs nothing! So, who am I to complain?
More on Ham Radio Deluxe
(sometimes misspelled "Delux"!)
Here.
---
---
Author: Claude Jollet - VE2DPE