Ham Radio Antennas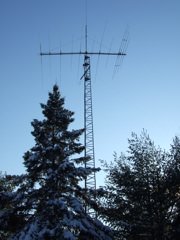 Multiband Yagi
All ham radio antennas involve compromises. Here is how to choose the set of compromises that will best fit your particular situation.
Virtually all ham radio operators use the same antenna for both receiving and transmitting on a given amateur radio band. That is a compromise in itself.
The high performance yagi type antenna in the picture is one of the best set of compromises available for a multi-band operation on HF.
The greater the number of frequency bands you want to work with the same antenna system, the greater the number of compromises you will have to live with.
But few of us have the space or the money to have individual antennas for each band!
Ham Radio Antennas
A Setup To Avoid!
Here is a common example of the worst possible setup, all too often encountered on the HF bands.
Avoid being . . .
The amateur radio operator calling "CQ"
while feeding maximum legal power
into a multi-band trap dipole
or, worse, a multi-band trap vertical!!!

Such an operator will often not "hear" the hams answering his calls!
Why?
Because of the poor receiving efficiency of such ham antennas even if, when installed properly, they may be effective radiators!
Under full legal transmitting power, the signal can be detected so far away that the antenna cannot detect the signal of the DX (far distant) station responding to the call!
The Ideal
Ham Antenna Setup
There are ways to avoid unbalanced operating conditions such as described above.
Reduce transmitting power to correspond with the receiving capabilities of the amateur radio antenna you are using.
Use a separate, high performance receiving antenna.
Or, use a beam type directional antenna, on your ham radio tower, for both transmitting and receiving (as in the picture at the beginning).
You can even design your own "dream antenna" using a antenna design program and build your next homemade ham radio antenna.
* * *  Antenna Forum  * * *
Know A Thing Or Two About Ham Radio Antennas?
Would you like to share details about your latest homemade antenna? Do you have something to say about your commercially made amateur radio antennas?
Tell your fellow hams about it. Share your observations, tips and techniques about your ham antennas.
Here is your chance.

I will dedicate an entire Web page to your article. You can add up to four (4) photos or drawings. You can even embed Youtube code in your text to further illustrate, with a video, what you want to communicate to other hams interested in antennas!
You can post as many articles as you want. Even start your own mini forum on ham antennas if you wish!
You will get full credit for your article ... and get the recognition you deserve for sharing your experience with fellow hams around the world.
It's easy. Just use the form below.
Click here to read what other amateur radio operators have already posted.
Love Your Ham Radio Antennas?
Rave About Them!
Do your ham radio antennas have anything worth writing home about? Don't just write home. Tell the whole world, from right here, right now!

Write about what you love (or hate) about your antenna. Make fellow hams drool with envy ... or shed a tear of compassion!

What Other Visitors Have Revealed About Their Antennas
Click the links below to read the heartfelt accounts that other visitors of this page have shared with the world about their antennas.

Home made magnetic loop antenna

I have seen many adds for commercial magnetic loop antennas 300 dollars and up in price. I didn't want to spend that much money on an antenna that might …
HF Antenna Advice Requested

I need some advice on what kind of HF antenna to purchase. This is where I want to install my first HF all band antenna. Can someone recommend a good …
Folded Dipole Homemade Ham Radio Antenna

I have just put up a homemade ham radio antenna. It's a folded dipole for the 6 meter band. The construction technique can be applied to other bands. …
Next ...Tips on choosing appropriate ham radio antennas.
---
73 de VE2DPE
Claude Jollet
7, Rue de la Rive, Notre-Dame-des-Prairies, Québec, Canada J6E 1M9
QTH Locator: FN36gb
---
---