Ham Radio Equipment
The Basics

Ham radio equipment does not have to cost "an arm and a leg"!
It does not have to be elaborate either.
Start with what you can afford.
It can take years to get the "dream" station assembled.
So what if it takes time.
Let it! It's part of the fun! :)

No Equipment Yet?
Join The Club!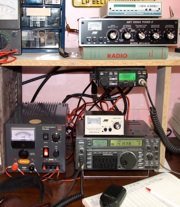 VE2DPE's indoor amateur radio equipment
The best way to get the most out of ham radio is to join your local ham radio club (if you are lucky enough to have one).
Most clubs have a club station that you will be able to use (under supervision if you are not licensed yet).
Also, you stand a good chance that one of its members will lend you the equipment you need to start if you can't afford to buy all the basics.
Your local ham radio club is also an excellent source of ...
Used ham radio equipment.
Tips on setting up your radio shack and antenna.
Helping hands to install antennas & tower or supports.
Elmers ... helpful experienced amateur radio operators.
The good ham radio operator normally listens a lot more than s/he transmits. See ham radio procedures for more info. Therefore...
a good ham radio receiver for the HF bands, preferably with general coverage capability,
and a good and properly installed antenna with its support(s),
... are the first items to consider.
HF - VHF - UHF
Equipment

Most amateur radio operators use transceivers (abbreviated "XCVRS"). By doing so, they have a receiver and a transmitter built-in the same piece of equipment.
Even so, it is not a bad idea to have a good stand-alone amateur radio receiver. It will often come in handy. Trust me.
Many amateur radio operators start with a VHF or UHF transceiver, (portable, fixed or mobile), to stay in touch with the local community of ham radio operators through the club repeater and other repeaters in the immediate region.
But, HF is the way to go if you want to really get a taste of DX (long distance) contacts with amateur radio operators in countries all over the world.
New or Used
Ham Radio Equipment?

If you can afford a new "rig" you will have years of enjoyment ahead of you. I have had the IC-735 HF XCVR and the IC-28H dual band VHF/UHF XCVR since 1990 ... and they are still working like new!
This means that, if I had sold these ham radios 10 years later, in 2000, some ham (maybe you) would still be using them today!
You can really get a lot of enjoyment and "mileage" out of used ham radio equipment that has been used according to the manufacturer's recommendations, and maintained in good working order.
Take care of your equipment and it will pay off.
Modified Equipment
or Kits?
Kits?

Working stations from all over the world with equipment you built yourself is a pleasure beyond words.
In the early years of amateur radio, operators used to build their equipment. From scratch.
Later, when used military (from the 2nd world war) and commercial communications equipment started to become available, hams would buy them cheap and modify them to work on the ham bands.
Modifying equipment is still a popular activity within the more technically inclined hams.
Then ham radio kits began to appear. I built my first kit, a Heathkit HW-101 transceiver, in the '70s.
Today, there are some fine kits available, using state of the art components. They are most popular with QRP (low power) enthusiasts and those who like to build and modify their own accessory ham radio equipment.
Click here to learn how to
use your ham radio equipment
according to accepted practice.
---
73 de VE2DPE
Claude Jollet
7, Rue de la Rive, Notre-Dame-des-Prairies, Québec, Canada J6E 1M9
QTH Locator: FN36gb
---
---