PSK31
Software On Linux
Robust and reliable PSK31 operation is made possible with a Linux application named twpsk.
twpsk is a soundcard-based X-window program. I have it running on my Ubuntu 9.10 Linux laptop in the shack.
Peter Martinez, G3PLX, invented this new "RTTY-like" digital mode to improve communications under crowded HF digital sub-band conditions.
The Linux application twpsk implements...
the very narrow bandwidth (31.25 Hz which is narrower than the average CW signal!)
and weak signal performance...
... that Peter intended for improved ham radio communications.
Twpsk Main Panel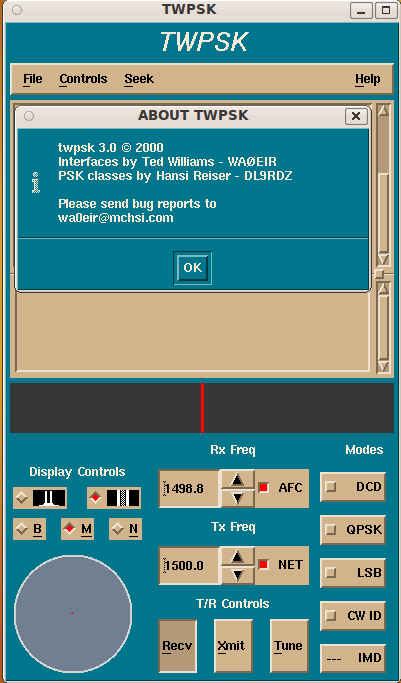 Twpsk PSK 31 Help

The twpsk help is very detailed and well structured. For best results, I recommend that you read through it all at least once before you use the software.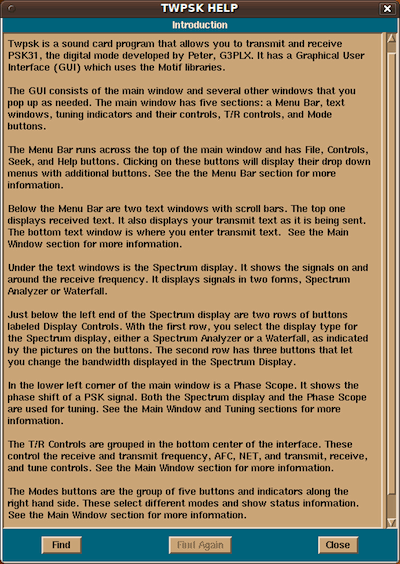 For information on PSK 31 operating frequencies, click here.

More on Linux software for ham radio operations here.

73 de VE2DPE
Claude Jollet
7, Rue de la Rive, Notre-Dame-des-Prairies, Québec, Canada J6E 1M9
QTH Locator: FN36gb
---
---