Short Ham Antennas
For HF
You may have heard that short ham antennas are not as efficient, nor as effective as a "full length" half-wave dipole, regardless of the configuration chosen.
Good news! I describe in this article the only exception I know of ... that actually works!
To be honest, even if effective, the antenna described below will tune somewhat sharply (narrower 2:1 SWR bandwidth) than full half wave dipole.
When you don't have the space, you have to accept a few compromises.
However, this "shortened" antenna will not disappoint you! John, OZ3PAX built one for the 17 meter band. Read his comment here.

I believe the details of this technique were first published a while back by John Stanford, NN0F.
Linear Loaded
Short Ham Antennas
For many ham radio operators, it is not feasible to put up a a full length dipole on HF.
But, a linearly loaded dipole just might fit in your available space!
A linearly loaded dipole, as illustrated below...
... is about 30-35% shorter than a "classic half-wave dipole" at the same frequency of resonance!


... has a radiation resistance around 35 Ohms. (You will need an impedance matching tuner at the other end of the coax!)


... just as effective as a "full length" half-wave dipole! :-)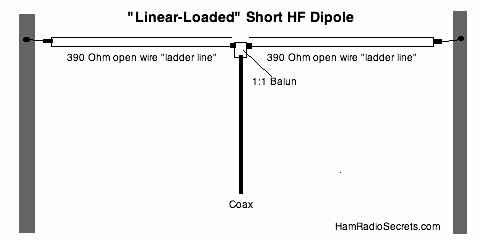 Note that it "looks" like a folded dipole, but the top part is open! You should add a ceramic end-insulator in the opening, to add mechanical strength. (The insulator is omitted in the drawing to make the opening obvious;-).
A More Efficient Version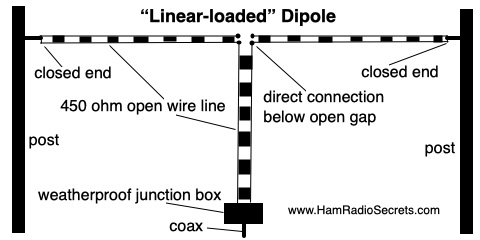 A more efficient version would be to feed a linear-loaded dipole short ham antenna directly with 450 ohm ladder line or 300 ohm twinlead.

As I work mostly QRP, I need to minimize RF losses as much as possible. Ladder line, and to a certain extent twinlead, are much less lossy transmission lines than coax.

I only use RG-8X coax to enter the radio room and to connect to a tuner. The coax is connected directly to the ladder line outside, just before it enters the shack. The connection is protected inside a weatherproof box.

You must use a RF choke on the coax, outside, before it enters the shack. To that end, you can use a coax choke, as described on this other page of this website.

Or you can use ferrite chokes that clip on the coax. (You can tell that you need more RF chokes when your tuner has trouble stabilizing on a setting when you transmit.)

As always, I recommend an "L" network tuner for maximum efficiency.

Here is what Tim G5TM (alias for 2EOTWG) had to say about this antenna:

"The 40m linear loaded dipole worked very well so I took away the coax and fed it with 300 ohm ribbon line. Wow! (it now) tunes 10-80 ... never thought it would tune 80 but it does and it works very well ... Thanks for sharing the idea and your advice." (Tim was using a IC-7300 with its internal automatic tuner.)

Shorter Dimensions!
Here are "ballpark" dimensions for a linearly loaded dipole for each ham radio band. These dimensions are intentionally slightly long! You will have to obtain the final dimensions experimentally, on site, by "pruning" to resonance.
Have you forgotten the technique to prune a dipole to resonance? Refresh your memory on the page about the ham radio dipole!
Linearly-Loaded Dipole
Approximate Dimensions
10M (28.5 MHz)  3.5 m. (11.5 ft.)
12M (24.9 MHz) 4.0 m. (13.2 ft.)
15M (21.1 MHz) 4.73 m. (15.5 ft.)
17M (18.1 MHz) 5.51 m. (18.1 ft.)
20M (14.1 MHz) 7.08 m. (23.2 ft.)
30M (10.1 MHz) 9.89 m. (32.44 ft.)
40M (7.1 MHz) 14.06 m. (46.14 ft.)
80M (3.6 MHz) 27.74 m. (91.0 ft.)
160M (1.85 MHz)53.97 m. (177.08 ft.)
The lengths given in the chart above are those of the full overall length (total breadth) of the bottom half of the linear-loaded dipole. The dimensions include the width between the balun connections.

The gap in the top section can be a few inches wide at HF (ex. the length of a normal end insulator).
Construction Of Linear Loaded
Short Ham Antennas
I use commonly available 390 Ohm "ladder line" with #14 stranded, copper-clad conductors. It is sturdy and lasts for years. 450 Ohm ladder line will work just as well.

For the central "attachment" I use two LadderLoc center insulators, head-to-head (available at Radio Works).
The extremities of the ladder line linearly loaded dipole are connected together.

After pruning the ends to get resonance at the desired frequency, I recommend soldering them together to ensure a long-lasting electrical bond. If not soldered, copper oxidization will eventually render the connections resistive and unreliable.

The top gap can be 3-4 inches wide. It's not critical for use on HF.

I recommend 3/16 in. Mil Spec Dacron® rope to tie the ends to tall supports such as trees.
Bonus Configurations!
Linear-loaded short ham antennas do not have to be limited to horizontal installations!
You can save even more space by installing them as "slopers", inverted "V"s and inverted "U"s.
I describe these configurations in detail on space-saving ham radio HF antennas.
Have fun! See you on HF.
73 de VE2DPE
---
73 de VE2DPE
Claude Jollet
7, Rue de la Rive, Notre-Dame-des-Prairies, Québec, Canada J6E 1M9
QTH Locator: FN36gb
---
---