Ham Radio Kits
Double Your Pleasure!
Ham radio kits bring the greatest sense of accomplishment there is ... well, OK, working DX on QRP is highly satisfying too!:-)
Yes! Amateur radio kits do provide double-action pleasure.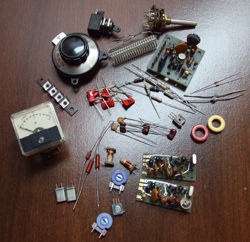 Kit parts
You obtain a valuable piece of equipment at a very affordable price.
You build it yourself ... and it works!
I built my first kit in 1973, a Heathkit Morse Code Practice oscillator.
(The no-morse-code license did not exist back then!)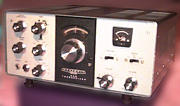 HW-101 Transceiver Kit (Source Eham.net)
Then, I graduated to building the Heathkit HW-101 transceiver in 1974, just in time to go on the air with my newly obtained ham radio license.
I was hooked on kits by then ... and I still am!
Kits Come With A Bonus
There is an added bonus to the advantages already mentioned in the introduction above.
You can tune and fix an amateur radio kit,
because you built it yourself, using
detailed assembly and troubleshooting
instructions and diagram!
That extra feature is worth money! It is also an extra source of satisfaction that commercially built equipment can never bring.
In short, you get a lot of value for your hard earned money by building your own equipment from professionally designed and engineered amateur radio kits.
Nowadays, ham radio kits are easier to build and more reliable than ever. The most critical and hard to assemble parts are pre-assembled and tested. An example are the modules that use surface-mount components.
What is left for you to assemble is always geared to be do-able by the average individual.
My Recommendation
Start with a simple kit, like an accessory for your ham radio station or a simple quartz crystal controlled QRP transmitter such as the Genesis Q5 designed by YU1LM and produced by VK1AA.
Make sure you learn how to solder components properly before you start building your first kit! There are many soldering tutorials available on the Web. Only a few are worth recommending. Here are three of my favorites. Each of them cover soldering from a different point of view.
Then, if you like the experience, don't be afraid to graduate to more complex projects.
Why not plunge into the wonderful world of Software Defined Radio (SDR)?
Look into the Softrock Lite II Project. You will find it more than interesting!
Here is where you will find the latest info on the Softrock RXTX V6.3 Software Defined Radio transceiver.
The Softrock family of QRP kits are available from KB9YIG.
Worthy of mention here is the new Elecraft KX3 10W XCVR which is available in "modular" form. It allows operation on 160 to 6 meters in the following modes: SSB, CW, Data (RTTY, PSK), AM, FM.
Even if you do buy commercially made, factory assembled and tested equipment later on, you will find that you will always have a special attachment - a "soft spot" - for the ham radio kits you built yourself.
This is especially true if your commercial rig breaks down and needs repair by a specialist.
In the meantime, you can always fall back on your "old reliables" to get back on the air! :-)
My Short List Of
Ham Radio Kit Manufacturers
Click below to view a list of manufacturers of:
---
Any Experience With Kits?
Have you ever assembled a ham radio kit? Tell our thousands of visitors about it! Share your experience. Was it frustrating? Surprisingly successful? Rewarding? Add photos of your work and even a Youtube video if you have one!
What Other Visitors Have Posted
Click below to see contributions from other visitors to this page...

Elecraft K2/100 SSB

I have built the Elecraft K2/100 kit with SSB option, and I love it. I have worked countries all around the world with it, and can highly recommend it, …
73 de VE2DPE
Claude Jollet
7, Rue de la Rive, Notre-Dame-des-Prairies, Québec, Canada J6E 1M9
QTH Locator: FN36gb
---
---