Ham Radio Power Supply
Check Your Needs
The ham radio power supply is probably the most important support equipment you will own. That is why I believe you should choose it carefully.
You should take into consideration both your present and future needs. Not an easy task when you are starting out.
Here then are the likely requirements you should plan for.
Planning
Present And Future Needs
Amateur radio power supply
When I bought a new HF transceiver in 1990 (an IC-735, not the IC-7200 shown here), I also bought a power supply to feed it the 13.8 volts it required to operate as a base station (see photo).
I had already been a ham for about 16 years then. By then, I knew fairly well what I would need a power supply for.
Nevertheless, at the time, I sat down to write what I would use my amateur radio power supply for.
It would have to be powerful enough to allow me to power both my HF and VHF rigs simultaneously, even if it means operation at reduced power.


As I had already developed a taste for experimentation, the ham radio power supply should also allow me to power various accessories and projects on the bench.
Do not underestimate the latter requirement!
The Ham Radio Power Supply
I Settled On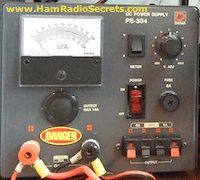 Power supply front panel
I bought the power supply you see on the photo back in 1990. It is still going strong. It features:
Continuously variable output voltage - from 0.88 volts to 16 volts DC. (Top right potentiometer knob).


30 amps output (max.) at 13.8 VDC. I could have chosen an even heftier power supply, but the cost rises sharply beyond that point!


Two sets of terminals.
A "cigar lighter" type terminal to power mobile equipment when in the shack (located just below the meter).


Easily accessible main fuse (front panel, to the right of the power switch).


Yeah! And a nice big V/A analog meter. I love analog meters! (It's the only one left in operation in the shack. Sigh!)


For years of trouble-free enjoyment, plan your needs carefully and go for a quality ham radio power supply.

73 de VE2DPE
Claude Jollet
7, Rue de la Rive, Notre-Dame-des-Prairies, Québec, Canada J6E 1M9
QTH Locator: FN36gb
---
---