Ham Radio Receivers
The Future Is Now!
Choosing one of the many ham radio receivers on the market can be an intimidating experience, especially if you are an aspiring ham or just beginning.
After all, it's your money that is a stake!
The ham radio receiver you choose should ideally meet your present and future needs .. as well as fit your budget, of course!
As every good ham radio operator does, you will listen a lot more than you will transmit.
As months and years go buy, your listening requirements will become increasingly demanding.
Therefore, your receiver must be up to the task, and remain so for a long time!
So Many
Ham Radio Receivers
What To Buy?
Frankly, I would recommend that your first ... or next amateur radio receiver be a Software Defined Radio (SDR) receiver.
Let me explain.
Your first (or last) communications receiver will have helped you discover what you really want out of a receiver.
Sooner or later, you will end up leafing through online catalogs and roaming the Internet in search of the "ideal receiver".
Might as well choose a receiver that can and will
change as your needs and preferences change
with experience.
What kind of receiver can keep up with you? A Software Defined Radio Receiver (SDR)!
When you buy a SDR receiver from a responsible manufacturer, software upgrades will be free of charge.
Getting Acquainted
With SDR
A SDR receiver kit is a great way to acquire experience and knowledge of Software Defined Radios.
WB5RVZ will give you all the introductory information you need to get started. His website is extremely well done.

The Ensemble RX III SDR Receiver is the latest version in the long line of descendants of the hugely popular SoftRock 40.
You can even go one step beyond ... and build the Ensemble RXTX SDR Transceiver!

HF Only
Or VLF to SHF?
To keep the cost down, you might want to limit yourself to a HF SDR. But, like every new technology, prices go down fast and what you could not afford eight months to a year ago ... may well have become affordable since then!
I have seen SDR solutions that cover VLF to SHF for only about double the price of a HF SDR!
Keep in mind that a well designed SDR receiver will give you performance approaching that of hardware-only ham radio receivers that cost thousands of dollars more!
Popular SDR
Manufacturers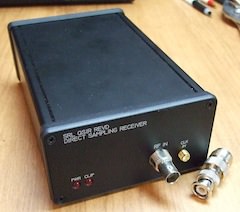 The QS1R SDR
However, you should be aware that...
Most SDR software runs on some flavor of Microsoft Windows™.


Microsoft Windows™ was never designed to handle inter-process communications in real-time!


Therefore, some of the major ham radio SDR players are working on porting their SDR to the Linux O/S perhaps even on Intel-based Mac OS X . . . which is what the QS1R SDR receiver manufacturer is planning.

"Soft" VS "Hard"
Approach
SDR ham radio receivers let you upgrade your radio to include new features as they become available. It's simple. You just download and install the new software version. In almost all cases these upgrades are free of charge!
On the other hand, hardware-only receivers limit you to what you bought and force you to buy the new models to get the extra features you want!
Choosing a SDR ham radio receiver
is the most rewarding choice you can make! :-)
73 de VE2DPE
Claude Jollet
7, Rue de la Rive, Notre-Dame-des-Prairies, Québec, Canada J6E 1M9
QTH Locator: FN36gb
---
---