Ham Radio Antenna
Selection Tips
Every ham radio antenna is full of inevitable compromises. Some antennas have more than others as we will see here.

When choosing or building a ham antenna (amateur radio antenna), the most common compromises you have to make will fall in the following categories:
Cost (for a commercially made antenna or cost of parts if homemade).
Available space (both horizontal and vertical).
Durability.
Performance (of course!).
City bylaws (increasingly ... sigh!).
The above are by no means the only types of compromises. But dealing (playing) with them constitute the kind of challenge I like to take up.
In Search Of
The "Perfect" Antenna
If perfect antennas were possible I would make them and become a millionaire!
The bad news is that the perfect antenna does not exist, even in theory! The theoretically perfect antenna can never be built ... because theory itself is not perfect!
However, the good news is that experimenting with homemade antennas is one of the most accessible and enjoyable aspects of amateur radio.
Home-Brewed
Ham Radio Antenna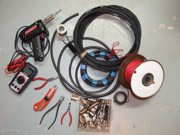 Antenna parts and tools
There is nothing more satisfying than building a few prototypes and getting better results with (almost) each new one.
Trust me. I know because experimenting with homemade antennas is the part of ham radio that I love the most.
The parts I love best are...
Studying (learning) basic antenna theory.
Researching and studying experiments made by other hams.
Designing my own ham radio wire antenna with its own compromises.
Erecting and testing it on the air.
...then starting all over again!
I especially love playing with wire antennas and stealth antennas.
In fact, when you hear me on the bands its likely because I am testing the performance of my latest "baby".
For example, take a look at my "VE2DPE 160M Special"!
Don't have the horizontal space for a 160 meter ham radio antenna? Then try your hand at building a much smaller . . .
These are easy and fun to built and use on the air!
If you do not have the real estate to put up a "classic" half-wave horizontal dipole, don't despair! Here are some space-saving configurations of the ham radio HF antenna that might do the trick!
For even more space saving ideas for HF antennas, see this page on short ham antennas and this one on a "loaded" short dipole.
---
73 de VE2DPE
Claude Jollet
7, Rue de la Rive, Notre-Dame-des-Prairies, Québec, Canada J6E 1M9
QTH Locator: FN36gb
---
---