Homemade Ham Radio Antennas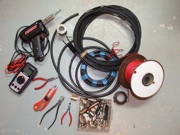 So much has been written on homemade ham radio antennas that it would be a shame not to point you to some of the best sources of articles on the subject.
Granted, much experimentation is still going strong by ham radio operators all over the world.
I felt I should share with you here my favorite sources of information for the antenna "home brewing" enthusiast.
Who "Brews" The Best Antennas?
I believe that QRP enthusiasts come up with some of the most efficient and effective homemade ham radio antennas.
Why?
Because they have to extract every micro-volt of RF possible from the radio waves to hear other QRP ham radio stations.
Also, when a QRP operator puts out 5 watts of RF or less into an antenna system, s/he wants most of it to get out there and do it's thing!
Every successful QRP operator knows that her/his success is due to two essential elements.
Mastering QRP operating techniques.
Installing well designed antenna system.
For more on QRP and its antennas, here is a good reference that I recommend without hesitation.
Low Power Communication - The Art And Science of QRP. 3rd Edition, by Rich Arland, W3OSS (ARRL Publication), chapters 6-7.
Books On Antennas
There are many good books out there. Here are the ones I refer to the most.
ARRL Books
The ARRL Antenna Book. 21st Edition ISBN: 0-87259-987-6

ARRL VHF/UHF Antenna Classics. First edition. ISBN: 0-87259-907-8
Note: if you are a US citizen, I encourage you to buy ARRL publications directly from the ARRL, preferably as a member supporting the ARRL. Outside USA, you will get a better deal by buying from Amazon or some other online discount outlet than from ordering directly from the ARRL.
See this link for more ARRL books on antennas.
RSGB Books
Building Successful HF Antennas By Peter Dodd, G3LDO, RSGB Publication. ISBN 9781-9050-8643-6
See this link for more RSGB books on antennas.
Periodicals
The only periodical publication on antennas that I can recommend is AntenneX because it is exclusively dedicated to antennas and it covers all aspects of antennas worth writing about.
AntenneX offers articles for every level of expertise, from the beginner to the highly technical.
RETURN to Ham Radio Antennas Head Page
FROM Homemade Ham Radio Antennas
---
---
Author: Claude Jollet - VE2DPE