Windom Antenna
The Carolina Version
Think of the "Carolina" windom antenna (the modern version of the windom) as an "upside down vertical antenna", hanging down from its counterpoise strung (more or less horizontally) some 10 meters (or more) above ground.
In other words, the 22 feet vertical component of the "Carolina" - between the 4:1 matching voltage transformer and the current choke balun - is a vertical antenna, fed at the tip.
This vertical does not require a ground or a system of radials!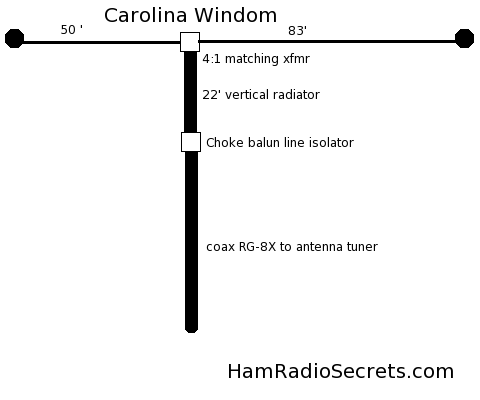 How The Carolina Windom Works
The outer shield of the 22 feet long vertical radiator coax (RG-8X) radiates to fill in the gaps between the signal pattern radiated by the top portion.
The "Carolina" windom thus becomes a near-omnidirectional antenna. This is a very desirable characteristic on the lower bands 40 meters, 80 meters and 160 meters.
Its users have reported that the near-omnidirectional characteristic is most pronounced near and over salt water.
The "Carolina" windom is...
Very efficient because no RF energy is lost in a "lossy" ground system.

Very effective because a large portion of the RF energy is radiated, much of it at low angles, omnidirectionally.
These same characteristics make the "Carolina" windom an excellent receiving antenna.
The Original Windom of The 1930's
The original windom was a Zepp-type antenna fed 14% off-center with a single wire.
The single-wire feeder radiated RF all the way into the operating position.
A very undesirable side-effect ... that the "Carolina" version not only eliminated but transformed into an extra asset by...
choking off the RF, present on the coax, before it enters the shack,

thus forcing the choked off RF to travel instead toward DX stations.
Take a look at my carolina windom antenna!
* * *
GO to Top Of Section On Ham Radio Antennas
FROM The Windom Antenna
---
---
Author: Claude Jollet - VE2DPE